Momento Cam Blog
Latest Momento news and updates
Momento M7 Wi-Fi: Now with Smartphone Connectivity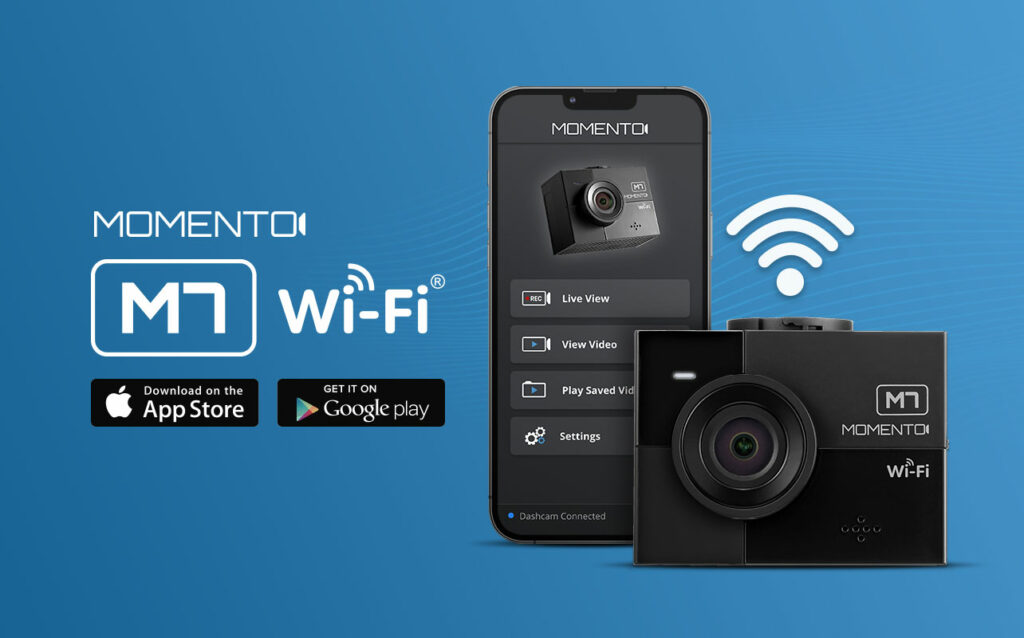 This October, we are proud to announce the new and improved Momento M7 Wi-Fi (model #: MD-7205). As the name implies, the M7 Wi-Fi now features smartphone connectivity, allowing you to conveniently download your dash cam videos onto your iPhone or Android device.
Unexpected incidents can occur on the road at any given moment. With the Momento M7 Wi-Fi Dash Cam Viewer App, available on the App Store for iOS and Google Play for Android, you will have instant access to your front, rear, and interior video files when something happens to your vehicle or around it.
---
How Does the Momento M7 Wi-Fi Work?
The Momento M7 Wi-Fi front camera projects a private Wi-Fi network that can only be accessed while the engine is running, the dash cam is on, and you are in close range of the vehicle.
How to Connect to M7 Wi-Fi App
When all of the above conditions are met, you can connect your smartphone to your M7 Wi-Fi dash cam by completing the following steps:
Download the M7 Wi-Fi App from the App Store or Google Play.
With your engine running, tap the Wi-Fi pairing button on the Momento M7 Wi-Fi dash camera.
Open the M7 Wi-Fi App and connect to your dash cam's private network (e.g. "M7_XXXXXXX")
Jump into Live View or view your recordings in "View Video".
What Else is New with Momento M7 Wi-Fi?
In addition to smartphone connectivity, the M7 Wi-Fi also boasts two key improvements:
Recordings are now saved in .mp4 format, which is easier to view and share for most devices.
Resolved radar interference when M7 is mounted near police radar detectors
ECO parking mode sensors are now disabled while the engine is on.
---
What Can the Momento M7 Wi-Fi App Do?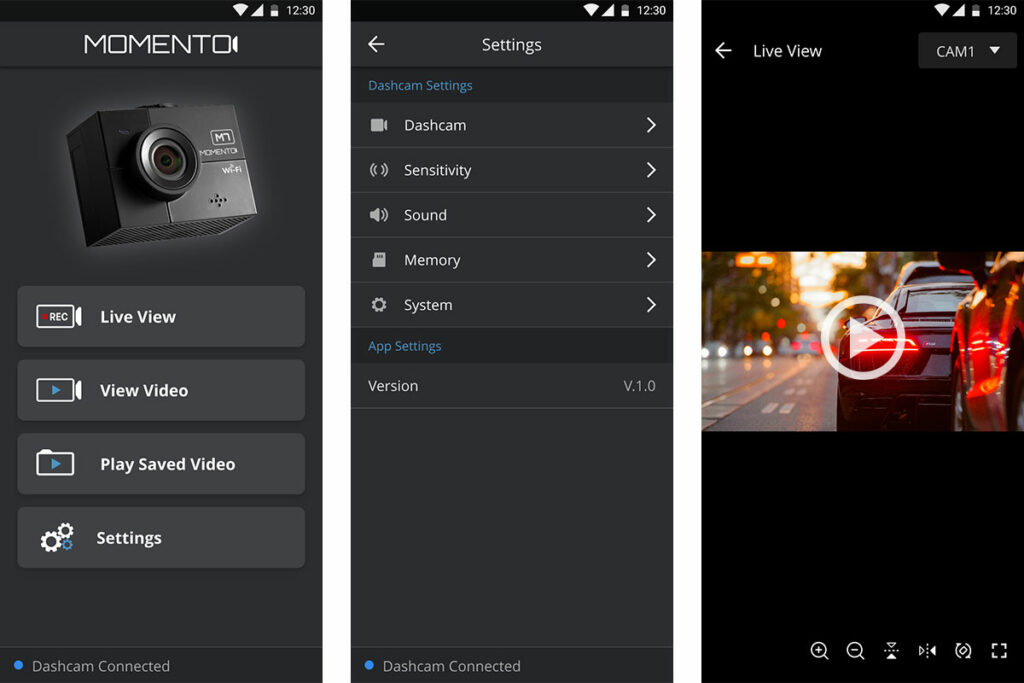 The Momento M7 Wi-Fi Viewer App offers several useful functions:
Live View - See what your camera sees in real-time. Note that this feature primarily serves for testing and positioning purposes, as it only works when you are near the vehicle with the engine running.
View Dash Cam Videos - Browse through your dash cam recordings, organized by date and time.
Save Dash Cam Videos - Edit down videos and save them on your device for sharing with social media, insurance claims, or authorities.
Adjust Camera Settings - The M7 Wi-Fi App allows you to conveniently adjust your dash cam's settings directly from your smartphone.
---
Can I Connect My Other Momento Dash Cam to the M7 Wi-Fi App?
Unfortunately, no. The Momento M7 Wi-Fi App is specifically designed to work with Momento M7 Wi-Fi (MD-7205) dash cams only. This means that neither the Momento M6 nor the original M7 will be compatible with the M7 Wi-Fi App.
---
How Do I Buy the Momento M7 Wi-Fi?
Momento M7 Wi-Fi will be available at authorized Momento dealers starting in October 2023. To find an authorized dealer and installer near you, please use our Dealer Locator.
With the new Momento M7 Wi-Fi, staying connected and ensuring your safety on the road has never been easier. Experience the convenience and peace of mind that this cutting-edge dash cam offers.